ACCESS CONTROL
Access control is technology's answer to a security guard on every door, reporting in every second, 24 hours a day.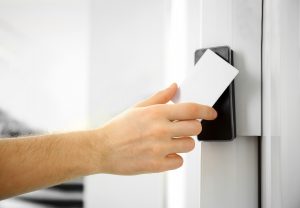 Access control systems are increasingly becoming the brain of integrated commercial security systems. Connecting to alarms and CCTV, linked up via the web to your home or a 24 hour remote control room and capable of applying differing levels of security and access to different parts of your property or site.
Modern access control systems are the ultimate in automation, capable of managing your complete security set up with absolute consistency. Our integrated security systems tie together several aspects of our expertise, with an access control system networked to a central control room which also monitors CCTV and alarm systems. Electronically operated magnetic locks tied together with an access control system make it possible for a single controller to securely manage a large property entirely by computer.
Our range of access control services and installations includes;
Code or pin keypad entry systems
Magstripe cards or proximity token opening
Networked access control systems
Integration with CCTV, alarms and locks
Remote monitoring and control set ups
Expert installations, rigourously tested
We employ a widely skilled team of electronic security installers and engineers with decades of combined experience throughout access control, CCTV, commercial locksmithing and physical security installations. We can place your access control system at the centre of a fully integrated, reliable, consistent and cost effective security system and guarantee the highest standards of service, products and installation.
Contact us now for more information on access control.