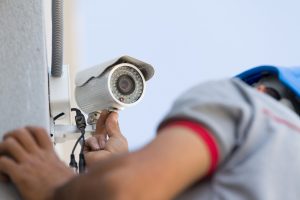 At Security Masters, we offer a wide range of security solutions for homes and commercial properties, which includes CCTV installation.
Based in Eltham, London, we provide our services to homeowners and businesses in South East London, plus parts of East London and North Kent.
Our selection and installation of CCTV equipment is one of our most popular services, and can of course help to keep properties and buildings safe and secure both during and after hours. If you have a local business, or you own or manage a residential block, it's essential to keep yourself vigilant, and we can help ease your mind.
We specialise in offering, recommending and installing CCTV equipment, and can provide advice and products according to your personal requirements. We always like to kick things off with a chat, and we're happy to talk you through how we can help with your CCTV installation. Our website is also full of testimonials which show how happy we make our customers.
There are a whole host of reasons why installing CCTV can benefit your business or building, including:
Crime deterrence and prevention
Replacing security staff
Peace of mind
Protecting staff
Monitoring staff
Increasing customer confidence
The ability to monitor remotely no matter where you are
And of course… if the worst does happen… catching the criminal red-handed!
CCTV monitors sounds and sights to keep ahead of any potential trouble. We offer a number of different types and sizes of cameras to suit a range of budgets.
In 2013, the Home Office introduced a new 12-point code on the use of CCTV, which we strictly adhere to. When offering advice, products and services, we ensure that we keep you legal and educated – it's essential when using CCTV to follow these new guidelines, and you're in safe hands with us!
These guidelines include rules to protect those who are monitored and instructions on policies and procedures. For an overview of the guidelines click here: http://www.bbc.co.uk/news/uk-23636462
We are more than happy to discuss your CCTV requirements in more detail, whether you have questions about equipment, budget, legality or anything else. We'd love to have a chat and can offer a free, no-obligation quote along with advice and information.
Give us a call, or an email, and we can have a chat… we'll look forward to it!